CONTENTS
Editorial.
Travel: A. Blikle.
Technology: Griff 300.
Stationery: Code & Quill.
Gadgets: Marv.
Books and Writing: Slade House.
Project of the week: Calamityware.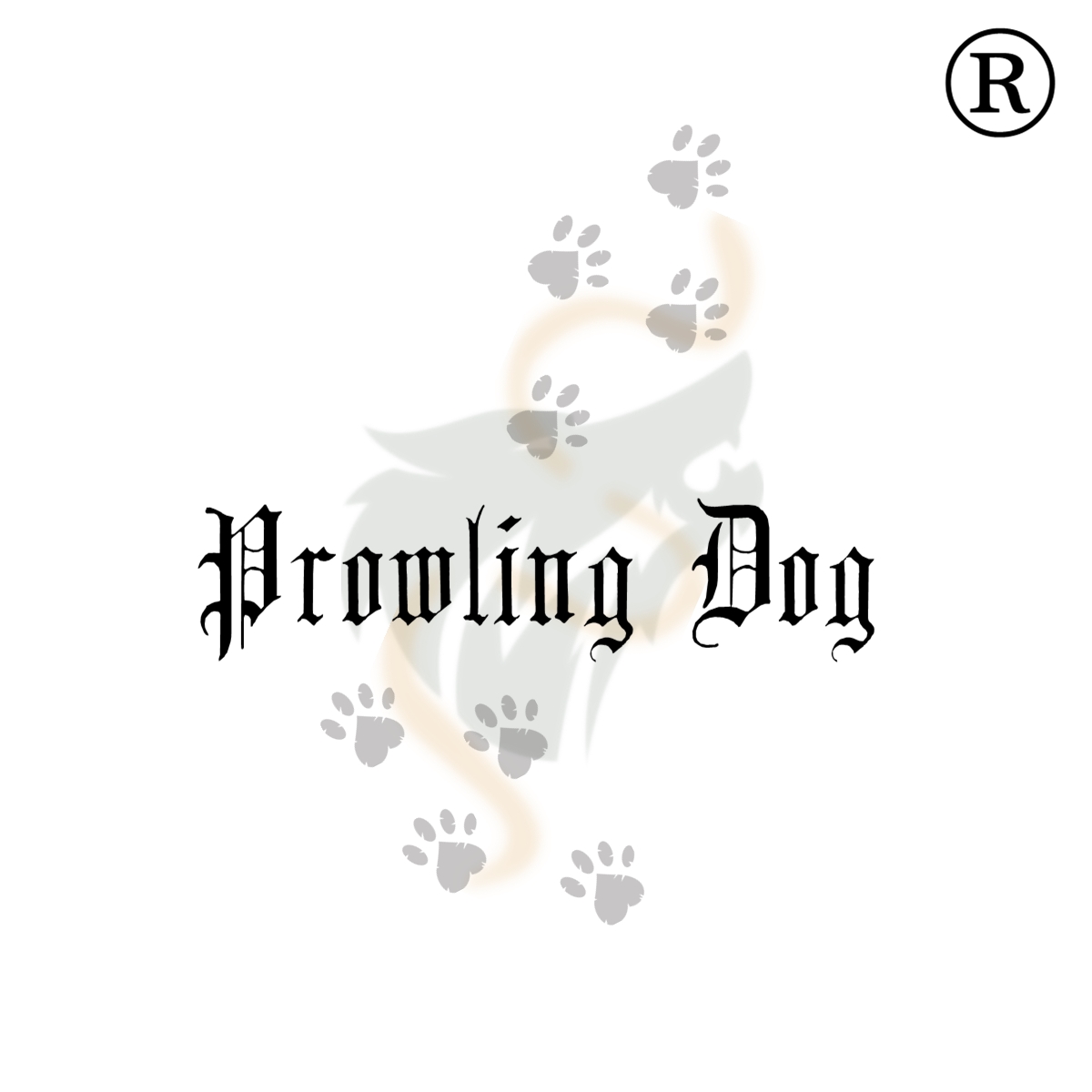 ---
EDITORIAL
PD has been very busy this week, but has managed to seek out some real delights for you, starting with the best doughnuts in the world (according to PD and many others). Once you have had your fill, enjoy the best designed drone, lovely new notebooks, a concept watch to yearn for, a book to give you nightmares and a great interpretation of a classic in tableware.
---
TRAVEL: A. Blikle
Wherever PD is, he would not hesitate going to Warsaw just to have a doughnut, because traditional Polish doughnuts are the best in the world, and none are better than those made at Blikle's (except for your Polish grandmother's, of course).
What makes Polish doughnuts (pączki) so mouth-watering? The secret is in the dough and in the cooking. They are light and have a confiture filling, such as jam or real custard. They are powdered in sugar and can be glazed. PD's mouth is watering at the thought of this.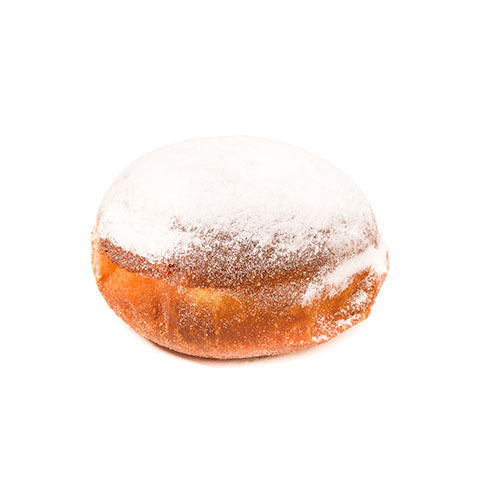 A. Blikle opened its doors on September 11th, 1869.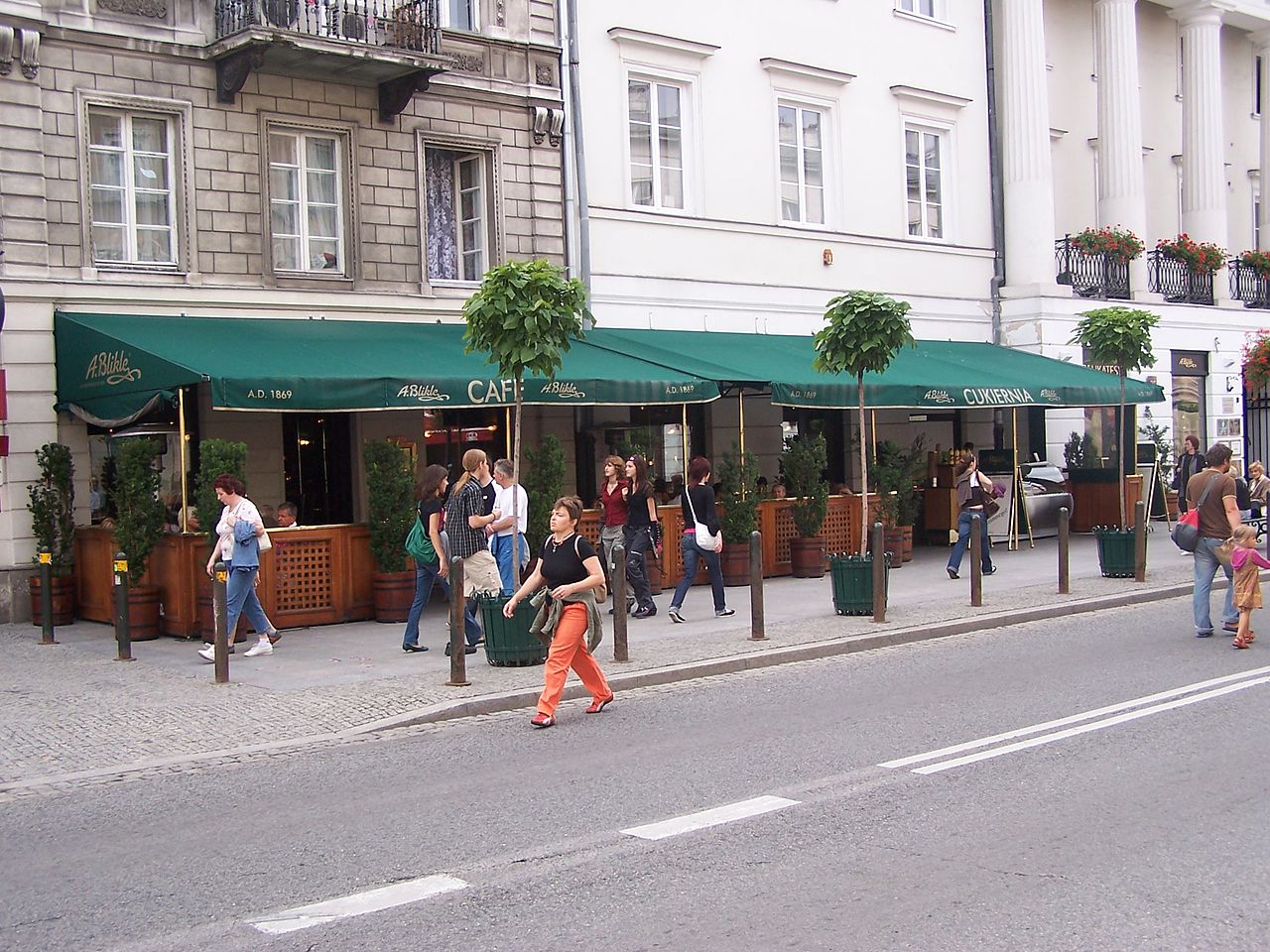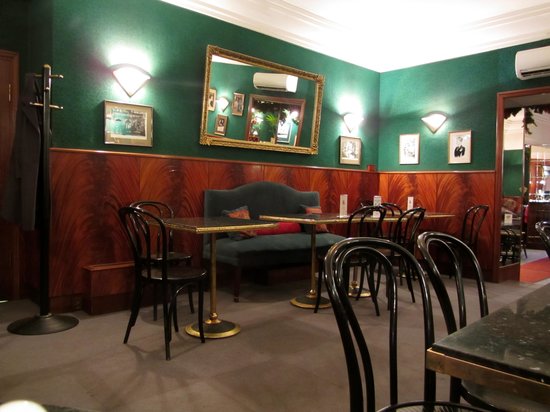 Tell the taxi driver to take you here:
Cukiernia Bliklego
ul.Nowy Świat 35
Warszawa
Poland
---
TECHNOLOGY: Griff 300
Yes, PD has written a bit about drones, but this field is evolving rapidly, not withstanding the collapse of the Lily project, an early mover in consumer autonomous camera drones, which had raised US$34M in 2015 from about 60,0000 backers. Luckily for investors in this project, Lily intends to refund their money (https://www.lily.camera/adventure-comes-end/).
After that sombre note, some good news. Griff Aviation in Norway is releasing a spectacular drone which has already obtained certification from both the Norwegian Civil Aviation Authority and the European Aviation Safety Agency. This is perhaps the most spectacular design PD has seen, as one would expect from Scandinavia. Depending on the model, it can carry large payloads, with a gross weight of up to 800kg and be airborne for up to 45 minutes. This is a serious drone for industry, military, law enforcement, fire services, and search and rescue services rather than for the consumer who wants to have a bit of fun.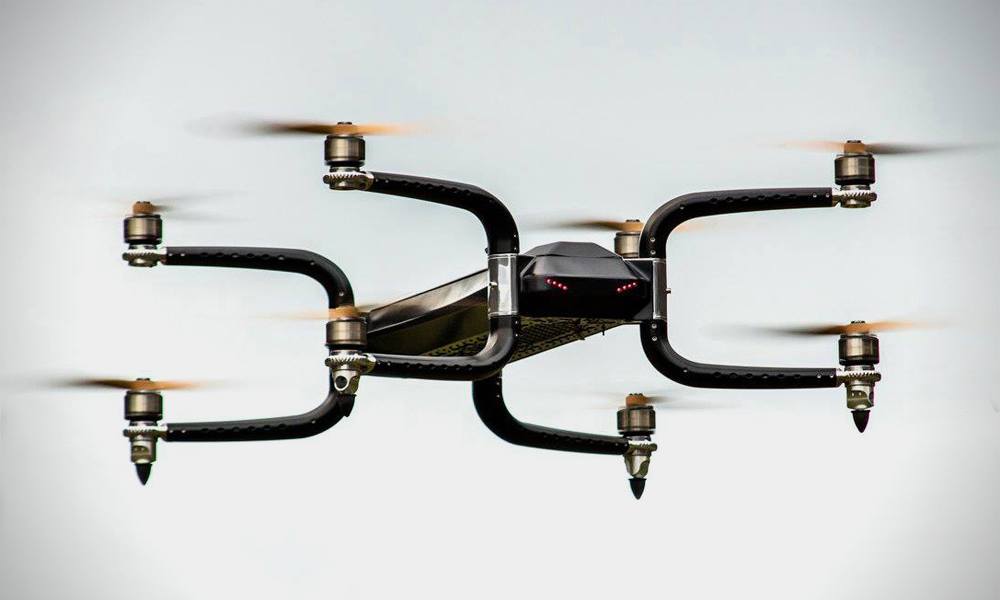 http://griffaviation.com/#about-griff
---
STATIONERY: Code & Quill
Code & Quill from the USA has had two successful campaigns on Kickstarter for its notebooks, building a nice following. Its philosophy includes improving what you have. For its pocket notebook, it has come up with a stylish design of a debossed ampersand with red fill which cuts into the cover rather than being raised.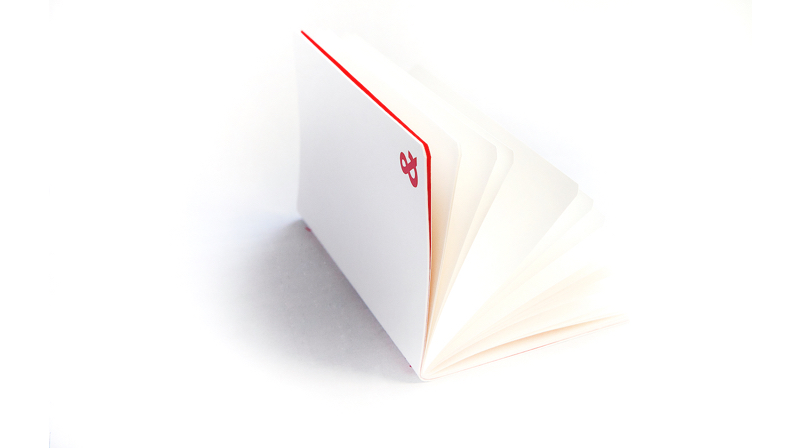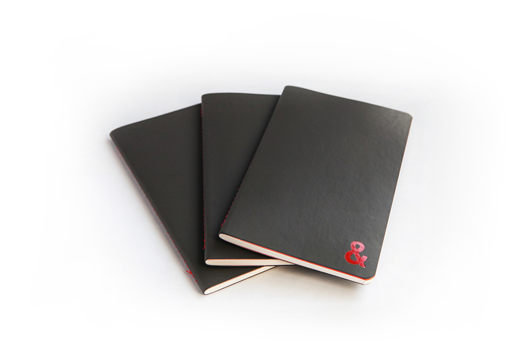 On the website you will also find a useful and instructive blog for users of notebooks.
Note for the curious: an ampersand is the sign for "and", i.e. "&". If you want to learn more about language symbols see PD issue 107, Books and Writing: Shady Characters.
---
GADGETS: Marv pocket watch / wrist watch
This week PD runs into a bit of fantasy, because this gorgeous watch is only a concept, which is a pity, as you will agree from these pictures. This is a very stylish modern watch that can be used either as a pocket watch or a wrist watch simply by swapping the strap. Enjoy. This is one concept that PD would like to see produced.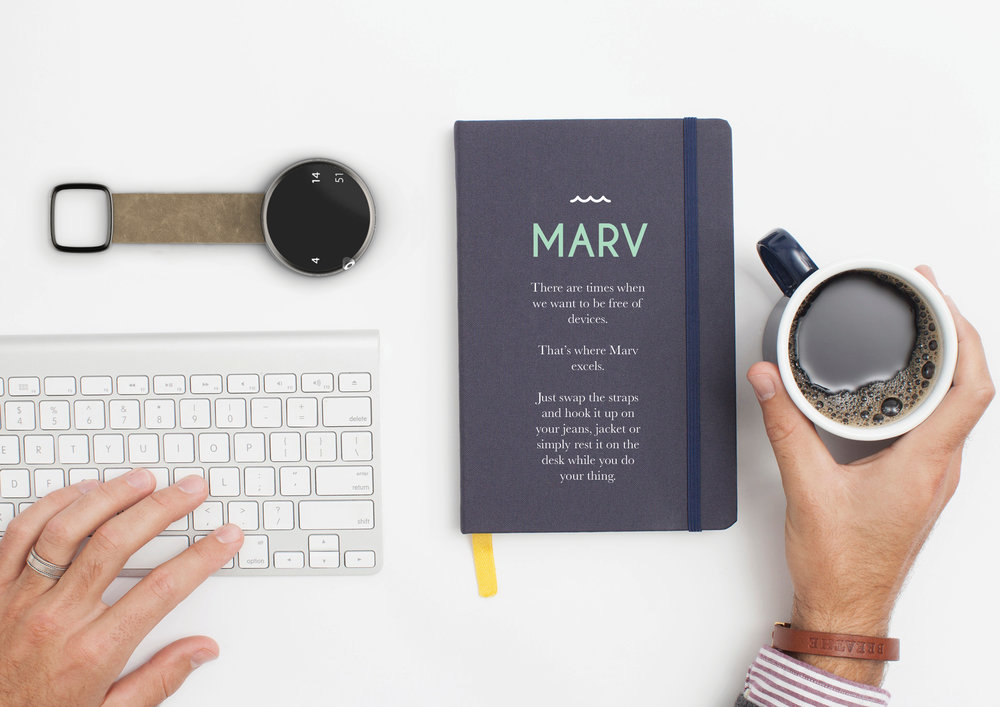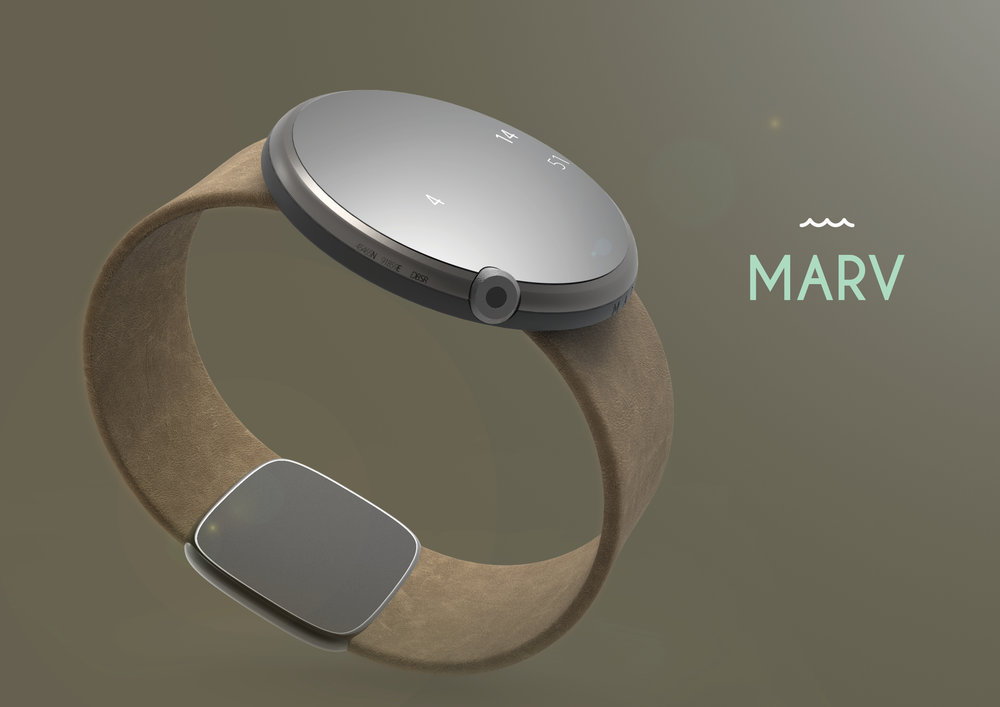 ---
BOOKS AND WRITING: Slade House
Slade House is a modern horror story written by David Mitchell. Slade House, a grand old mansion set in a large garden, appears every nine years in a shabby neighbourhood of London. Entry is by a small iron door found along a narrow, dark alley that is easy to miss. Those summoned there find it irresistible, then they cannot leave. Its dark secrets begin with orphan twins in nineteenth century rural England and culminate in the attic of Slade House. The chapters are narrated by the victims, each nine years apart, the last victim being an unexpected surprise.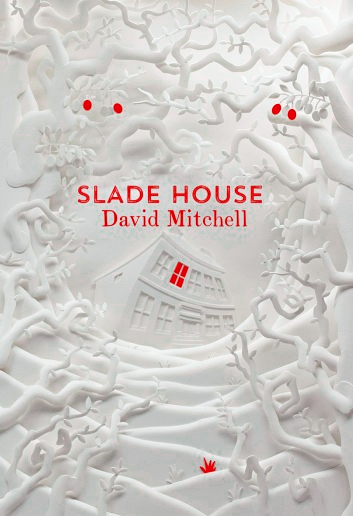 This book will keep you on edge, watching helplessly as the "guests" meet their fate. It is written through the eyes of the "guests", so the first chapter, narrated through the eyes of a boy, does not read well, but after that the book flows very nicely. Definitely not for children, unless you want them to have nightmares.
PD rating: 3.5 paws out of 5.
Available at your local bookseller.
---
PROJECT OF THE WEEK: Calamityware
Most of you are familiar with the famous willow pattern crockery, perhaps from your grandparents. Introduced in England towards the end of the eighteenth century, this Chinese inspired design has endured in popularity.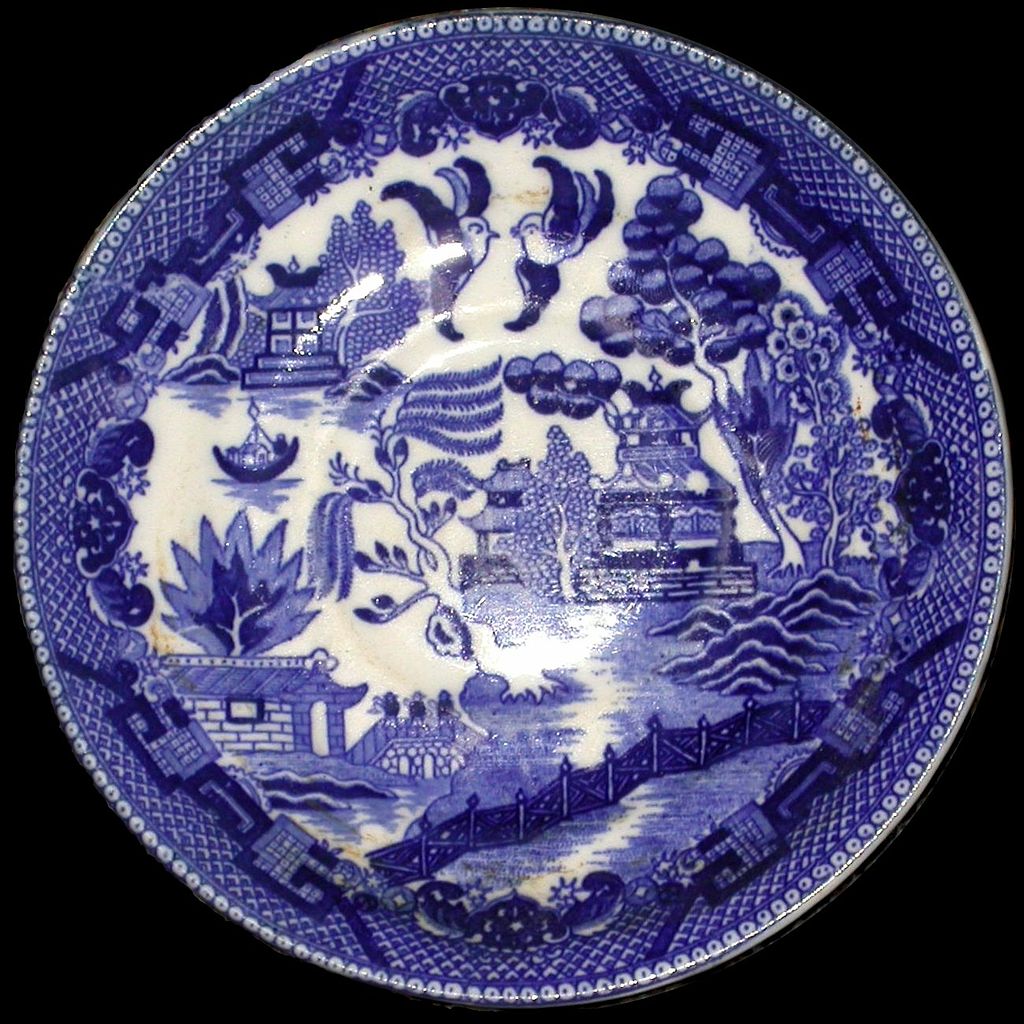 [Picture source: CC BY-SA 3.0, https://en.wikipedia.org/w/index.php?curid=2810575]
Calamityware has taken this design and added subtle whimsy to it. First introduced in 2011, it keeps coming back regularly on Kickstarter. Look carefully at the designs and you will find monkeys, monsters, robots, flying saucers (no pun intended), monster fish and insects. The current project modifies the first four designs, which sadly are no longer available.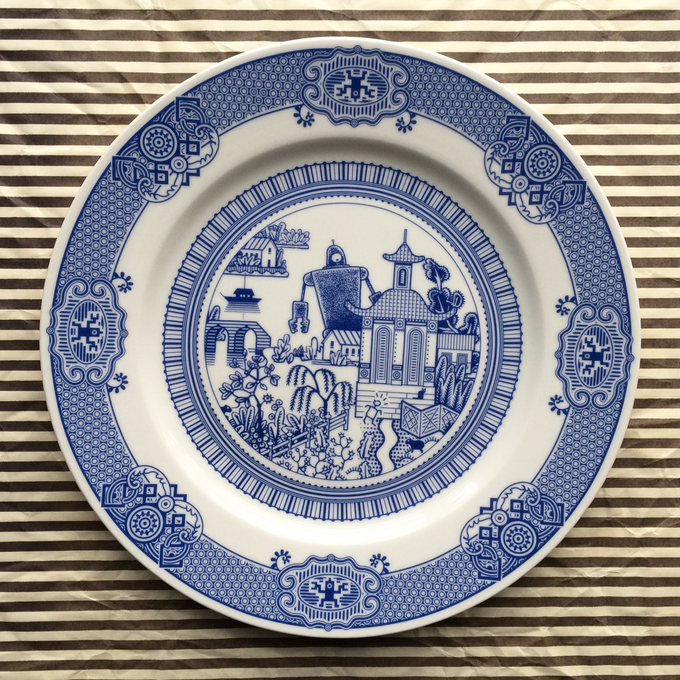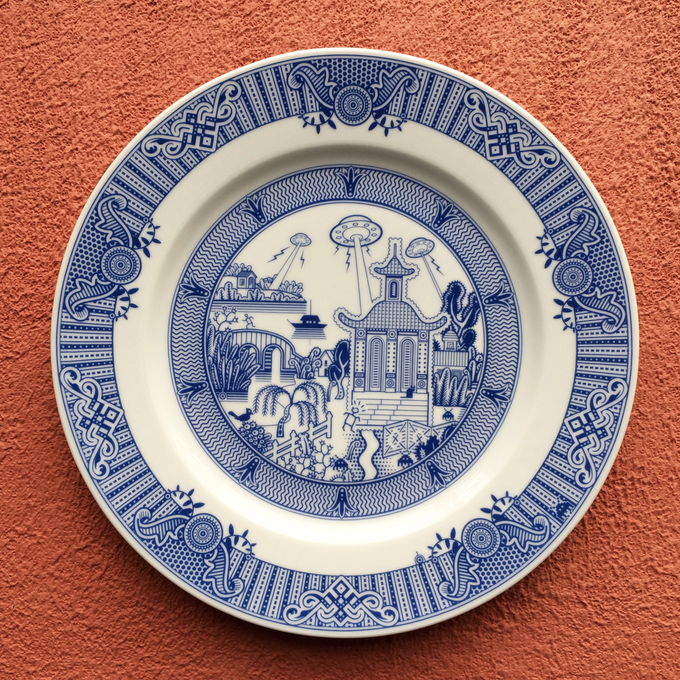 This porcelain ware will be top quality, 10.5" in diameter and will be produced in the award-winning Kristoff workshop in Poland using the in-glaze technique. "In-glaze plates are fired at extra-high temperatures to allow the image to melt slightly into the surface of the plate. Connoisseurs will appreciate the beauty of the in-glaze technique which the artists at Kristoff have been refining since 1831. This is the look of porcelain you see in museums. Sweet." (Quote from the designer).
Certainly something to be treasured alongside your Grandmother's original willow pattern dinner set.
https://www.kickstarter.com/projects/159974695/calamityware-series-1-revisited?ref=category
---
Important disclaimer: Remember that crowdfunding sites are not stores. You may decide to back this project and provide funds, however there is no guarantee that any project will be delivered - the rate of failure is about 10%. PD is in no way accountable for the success or otherwise of any project and writes in this column purely for entertainment purposes, and will in no way be held liable for any failure or money lost by anyone. It is a case of "buyer beware". It is a sad reflection on the era we live in that PD must resort to this type of disclaimer.
Note: photographs and illustrations are from the relevant websites and are the copyright of the respective owners.
Contact Prowling Dog at prowlingdog@protonmail.com
© 2017 Prowling Dog
---