CONTENTS
NOTICE
Editorial: Ford Eagle Squadron Mustang GT.
Travel: Lost Worlds.
Technology: Comet and asteroid defence.
Stationery: Endeavor Notebook.
Gadgets and Gear: CRKT Knife Maintenance Tool.
Books and Writing: Fore-edge painting.
Miscellaneous: Ethec Electric Motorcycle.
PD: Store.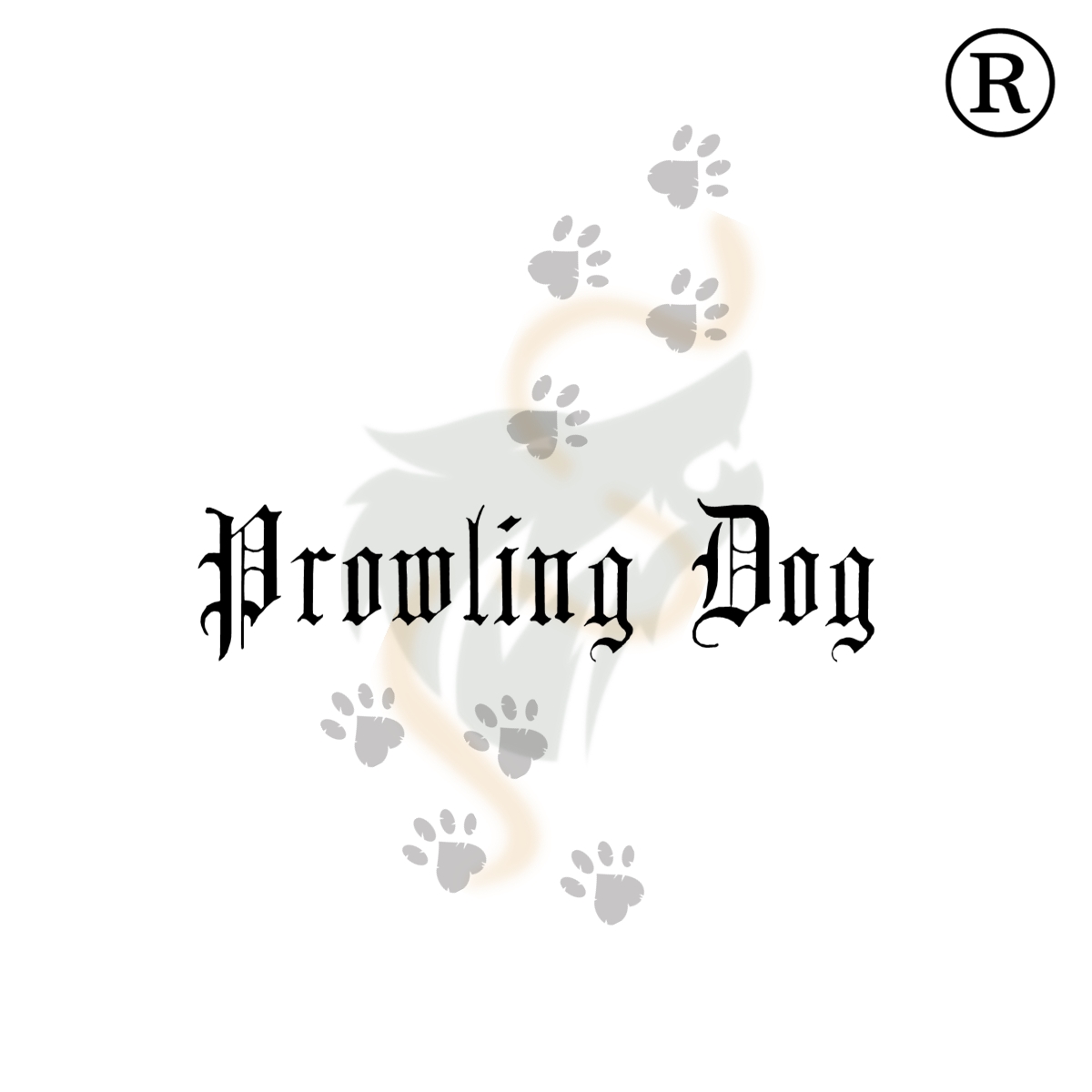 Contact Prowling Dog at prowlingdog@protonmail.com
---
NOTICE
PD is on the prowl again (after all, he has a name to live up to). He will be off the grid. Consequently PD: Cool Things issue 186 will appear in two week's time.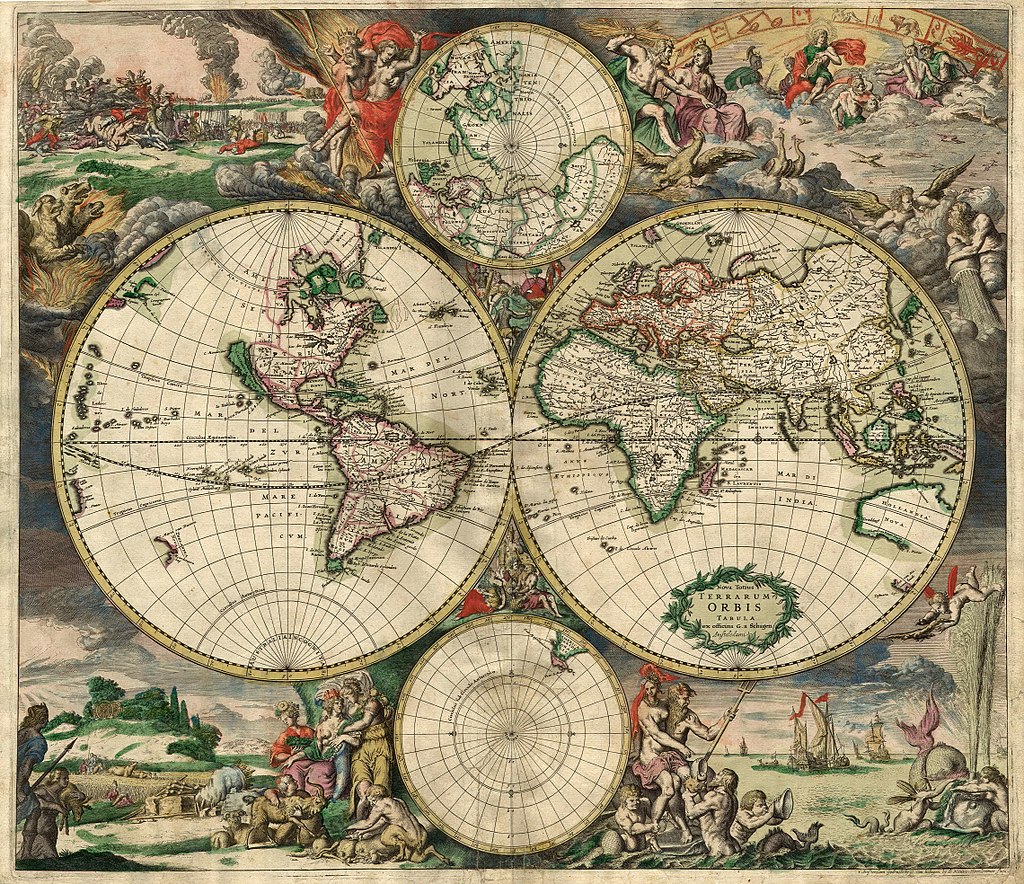 [Van Schagen map of the world 1689]
---
EDITORIAL: Ford Eagle Squadron Mustang GT
PD has presented some custom motorcycles. This week PD turns to cars, in particular the Ford Eagle Squadron Mustang GT, a one-off vehicle that pays tribute to the volunteer American fighter pilots who served in the Royal Air Force [United Kingdom] during World War II.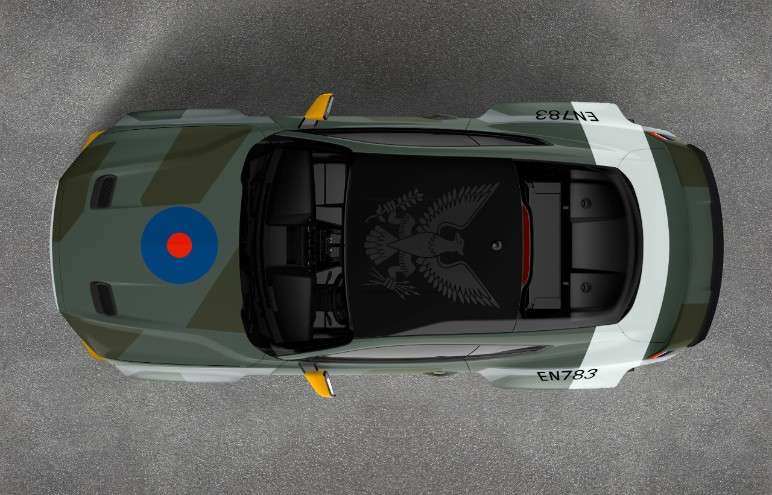 Sporting stunning livery inspired by that used by the Royal Air Force during the war, the car will debut at the Festival of Speed, to be held at the historic Goodwood racetrack in the United Kingdom, on July 12th. The car will then head to the United States to be auctioned off at the Gathering on July 26th. The Gathering is a fundraising event of the Experimental Aircraft Association, which supports young pilots through its youth education program.
For the technically minded, the car "features a 700-horsepower [approximately 522 kW] 5.0-liter V8 with a Ford Performance supercharger, RTR carbon fiber wide-body kit and Tactical Performance suspension package".
https://media.ford.com/content/fordmedia/fna/us/en/news/2018/06/15/eagle-squadron-mustang-gt-gittin-charity.html
Contact Prowling Dog at prowlingdog@protonmail.com
---
TRAVEL: Lost Worlds
If you closely look at an antique map you may notice some interesting details. Many old maps have illustrations of incredible creatures. They also will have islands that do not exist, even taking into account the inaccuracies of old methods of cartography.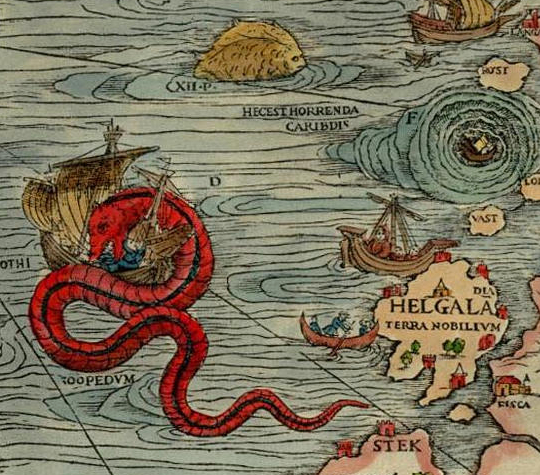 [Magnus's Carta Marina, 1539, detail]
Alejandro Polanco, a graphic designer and mapmaker who has been previously featured in PD (see PD: Cool Things issue 178), has taken "lost continents, historical errors on famous maps, islands that once were believed to really exist, fantastic animals" from various antique maps and put them together into a beautiful and informative map.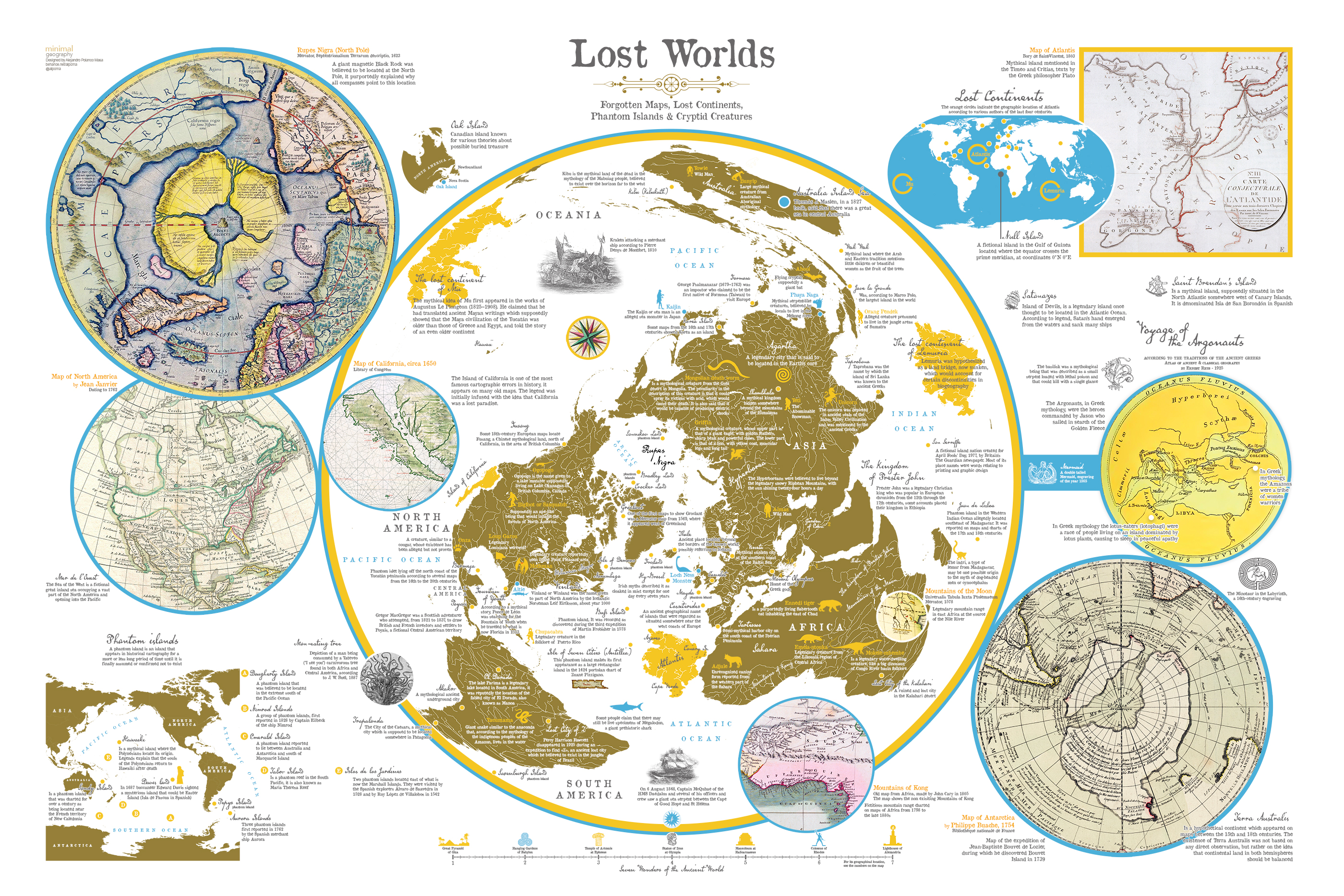 If you like old maps, history, geography or simply enjoy beautiful things, then this map is for you.
https://www.kickstarter.com/projects/alpoma/lost-worlds-poster-map-digital-download
Contact Prowling Dog at prowlingdog@protonmail.com
---
TECHNOLOGY: Comet and asteroid defence
Asteroids and comets abound in outer space. Small ones frequently land on earth. Large ones have also landed on earth, causing mass extinctions, such the extinction of the dinosaurs.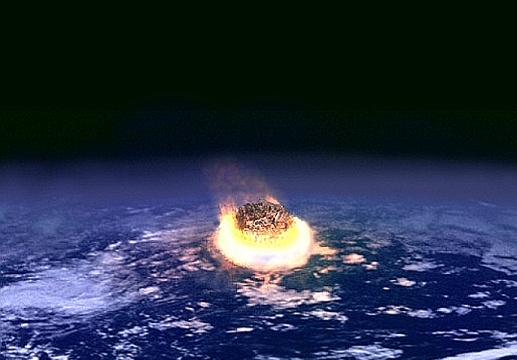 [Illustration: Fredrik]
Larger comets and asteroids have the power of nuclear weapons, the destructive power increasing with the size of the object. On impact they cause massive amounts of dust to block out the sun for prolonged periods, causing a long-lasting "impact winter". Subsequent food shortages cause mass extinction. The shaded background in the following graph shows the expected size of devastation with different sizes of asteroids or comets. For example, a 25m in diameter asteroid or comet could destroy a city.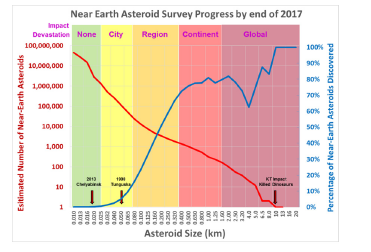 NASA is taking this seriously. It has just released a preparedness plan to save us from a devastating hit by a space object.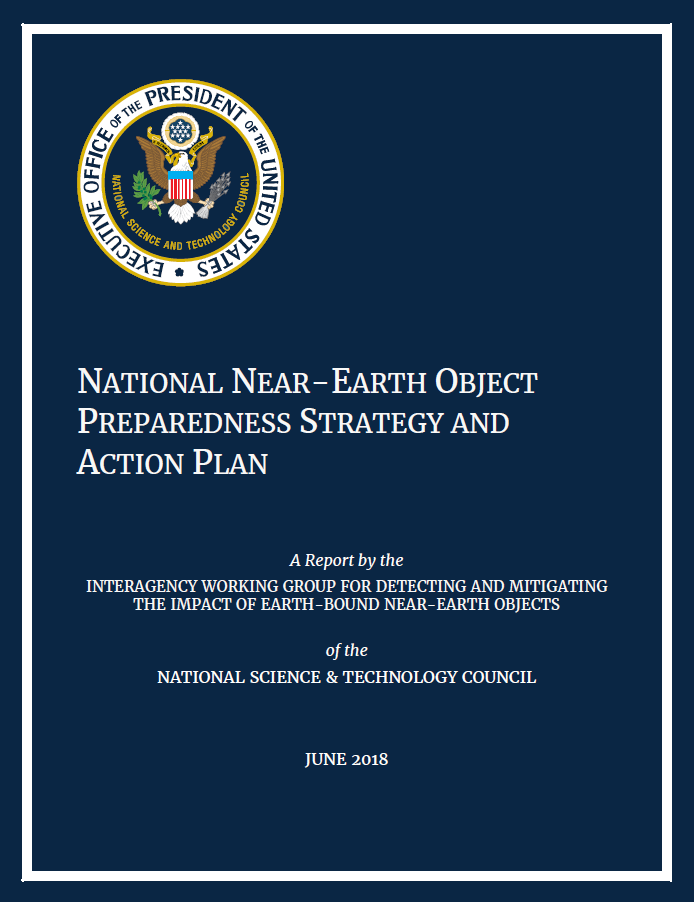 In summary, NASA aims to develop better methods to track and predict the paths of these objects, to develop ways of deflecting or destroying those that are a threat to the earth, to develop co-operation between nations to achieve this and to develop emergency procedures should a significant strike occur.
If you want more details or would like to download a copy of the plan, go to NASA's web page:
https://www.jpl.nasa.gov/news/news.php?release=2018-141&rn=news.xml&rst=7166
Aside: Asteroids and comets are collectively known as near-earth objects. Asteroids are composed of rock and metal, whereas comets are made of ice, dust and rocky material.
Contact Prowling Dog at prowlingdog@protonmail.com
---
STATIONERY: Endeavor Notebook
The Endeavor Notebook is a beautifully crafted refillable leather notebook.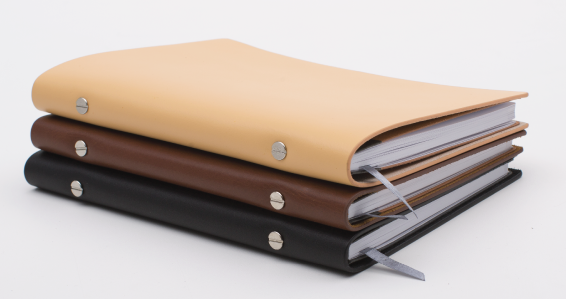 The insert is held in place by screws.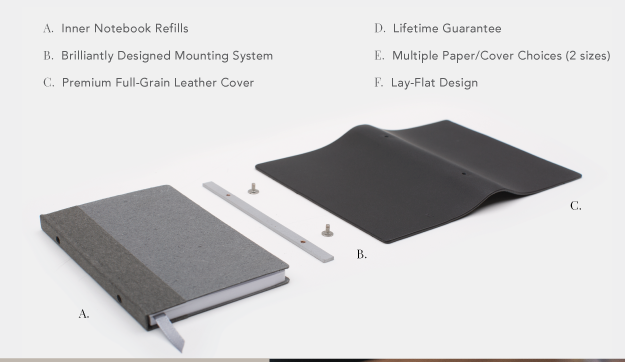 The notebook is available in either A5 or A6 size, and there is a choice of colours for both the cover and the insert.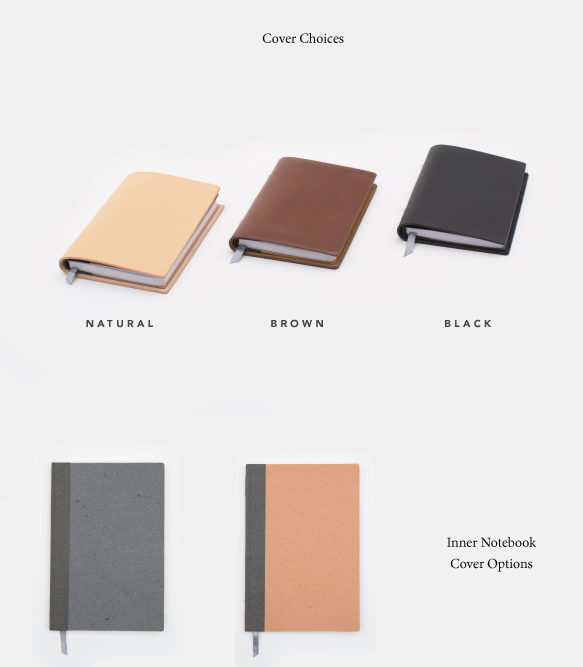 The inserts come in one of three patterns: dot grid (PD's favourite as it is the most versatile pattern), ruled and plain.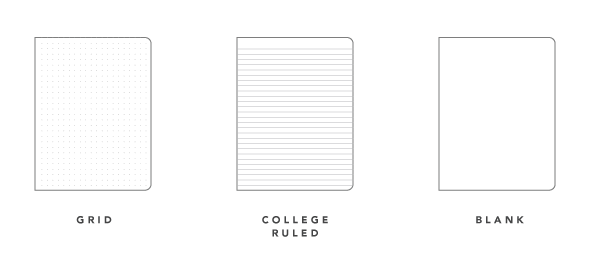 The refills are made from 80gsm acid-free and fountain pen friendly paper.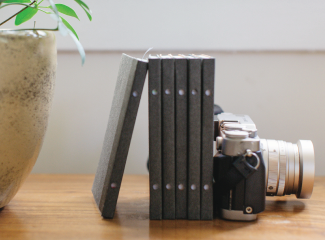 https://www.kickstarter.com/projects/endeavorwritingco/endeavor-notebook-the-ingenious-refillable-design?ref=user_menu
Contact Prowling Dog at prowlingdog@protonmail.com
---
GADGETS AND GEAR: CRKT Knife Maintenance Tool
Looking after your pocket knife is essential. The most dangerous knife is a blunt one. Loose screws or bolts weaken the knife. The blade should be kept clean and rust free. Neglecting a knife shortens its life span. We all know this but how many of us actually take the time to look after our knives? Perhaps our sharpening stone or tool is somewhere at the bottom of a box of stuff in the garage and too difficult to find. Perhaps we are busy.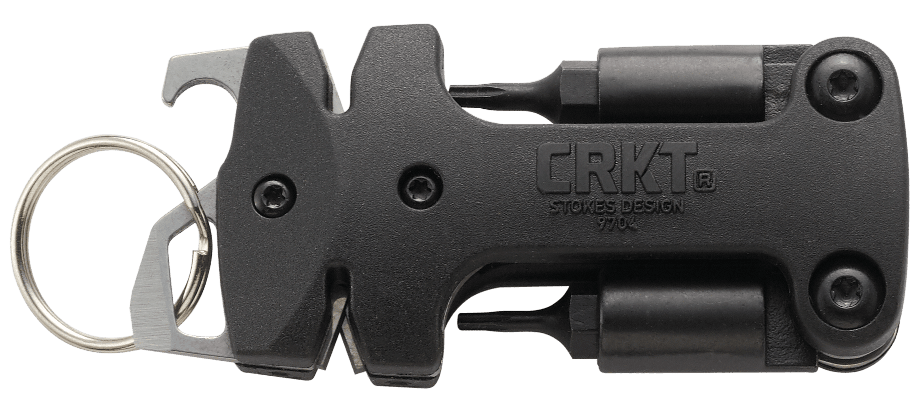 The CRKT Knife Maintenance Tool is a pocket-sized tool that you can always have on hand, so there is no excuse not to always have a well maintained knife.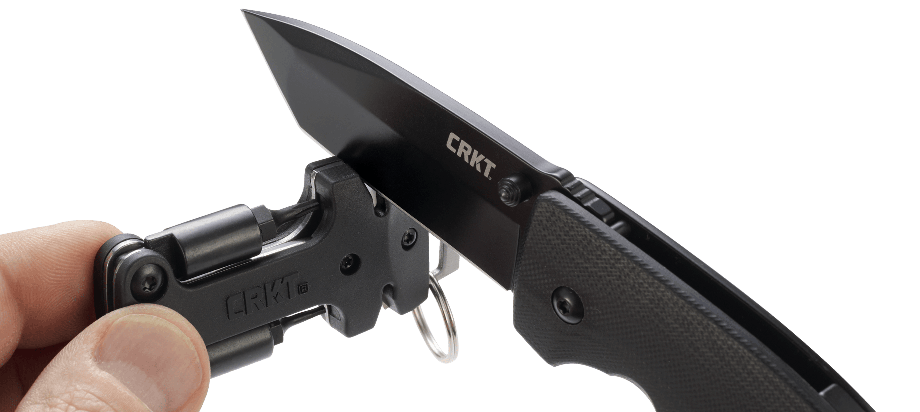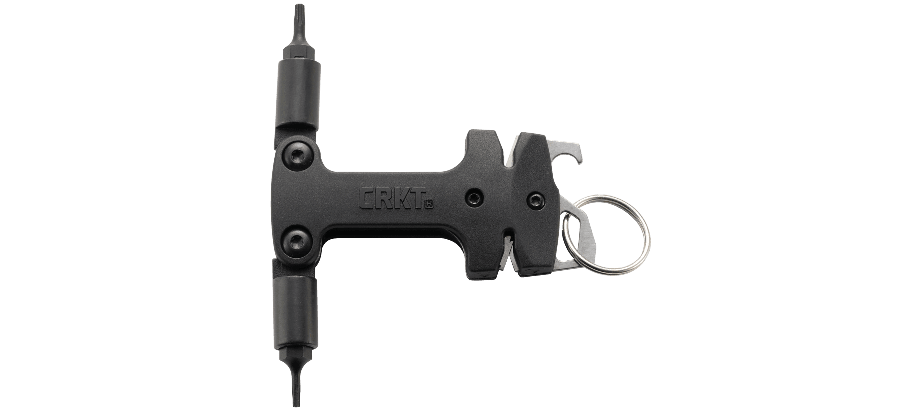 https://www.crkt.com/knife-maintenance-tool.html
Contact Prowling Dog at prowlingdog@protonmail.com
---
BOOKS AND WRITING: Fore-edge painting
Fore-edge painting is putting an image on the opening edge or edges of a book.


[Poems, William Cowper, Church ruins by lakefront, 1808, Boston Library].
The first known book with fore-edge painting dates to the tenth century A.D. Fore-edge painting became popular in the 18th century. Several techniques are used. The basic one is to simply paint the leading edge of a book. If the pages are slightly fanned so that the leading edge of the book is at an angle, the painting will be normally hidden from view, to be revealed when the pages are fanned.


[Adam and Eve in the Garden of Eden, Bible, Fittler, 1795, Boston Library]
You can have double fore-edge painting, where the book is fanned one way and then the other way. In triple fore-edge painting all of the above are used (flat and fanned each way). There are other variations such as split painting, in which there are two paintings, top and bottom.


[Barnard Castle, Sir Walter Scott, Rokeby, 1813]
If you are a book publisher perhaps you could consider adding this wonderful feature to your fine books.
Contact Prowling Dog at prowlingdog@protonmail.com
---
MISCELLANEOUS: Ethec Electric Motorcycle
This stunning futuristic motorcycle is the project of engineering students from ETH Zurich and industrial design students from the Zurich University of the Arts.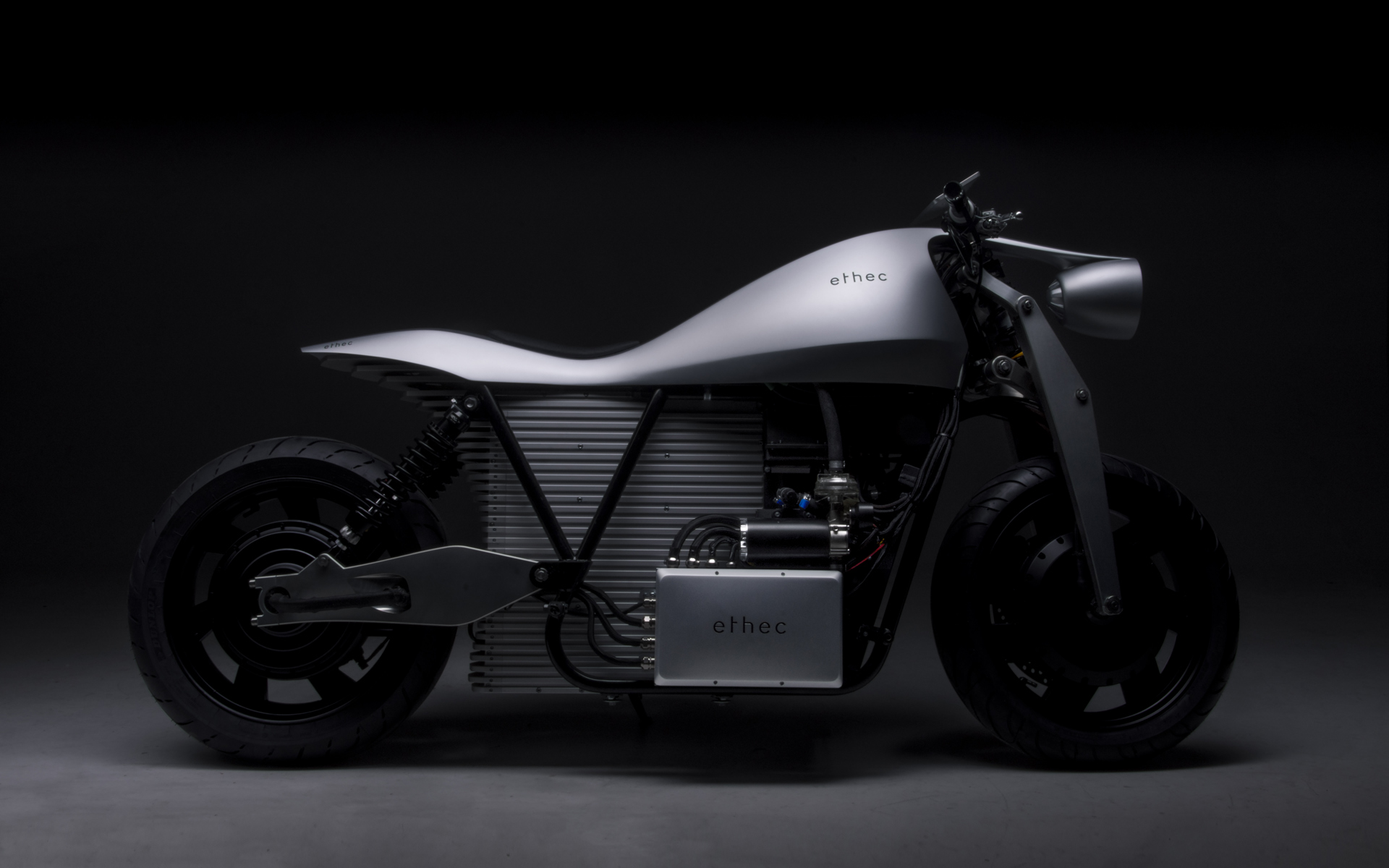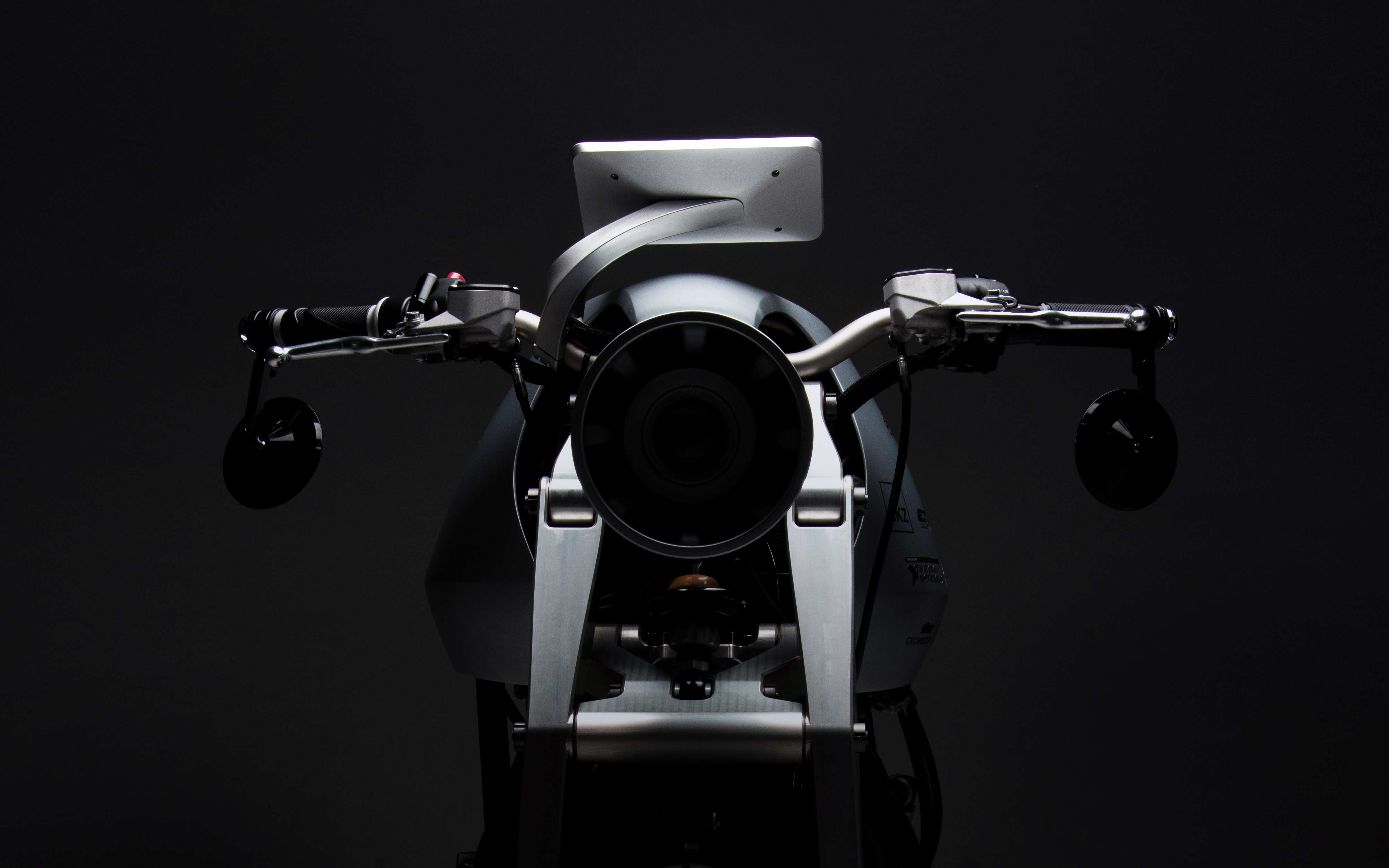 Apart from the stunning design, this motorcycle has innovations such as a front wheel hub motor and a thermoelectric cooling system for the lithium-ion battery.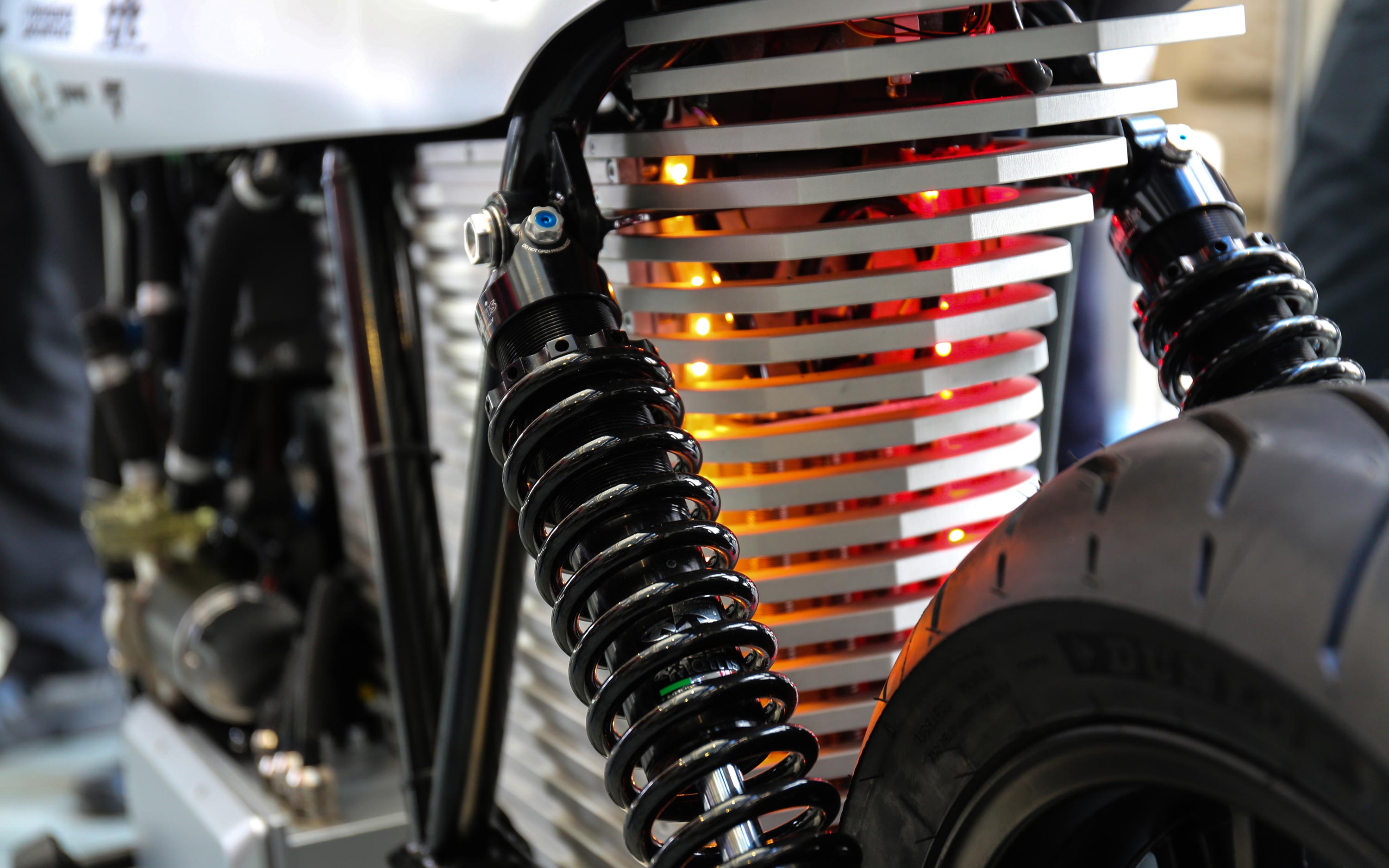 The motorcycle has a 400km range.
Contact Prowling Dog at prowlingdog@protonmail.com
---
PD: Store
X90 Planner
The X90 Planner has been thoroughly tested by PD and featured in PD: Cool Things 178: GHOST_URL/prowling-dog-cool-things-issue-178/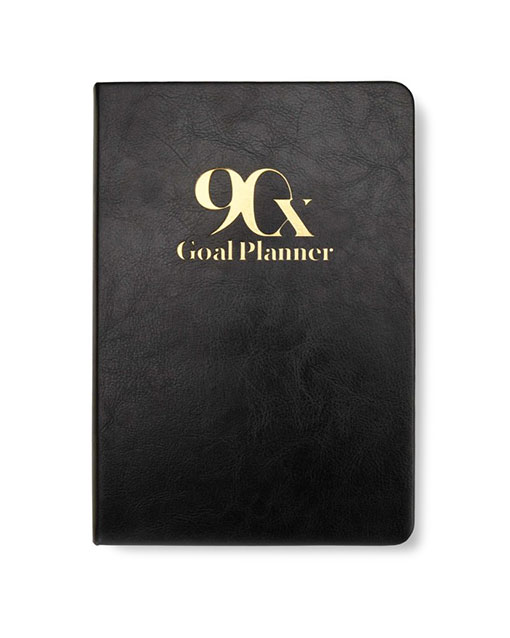 The planner is hard back but opens flat. It is clearly laid out and uses quality paper. It is undated, so you can start working on your goals immediately. There are 90 days in the planner, the ideal length of time to achieve goals.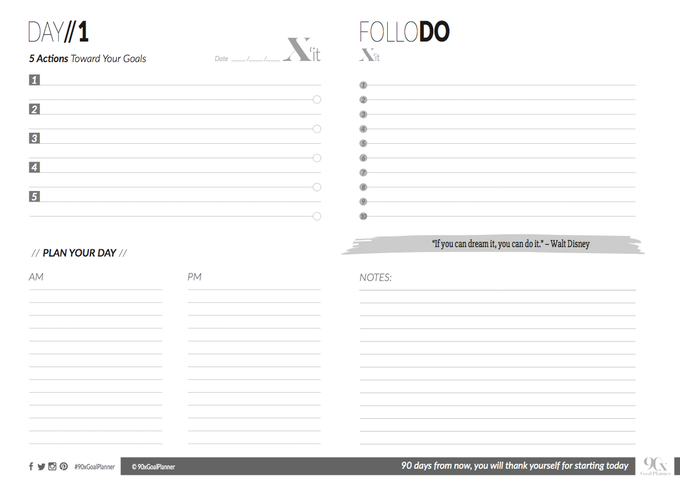 From US $31.95 plus shipping. Local taxes may apply in your country.
BUY HERE: https://90xgoalplanner.com/?ref=107
Contact Prowling Dog at prowlingdog@protonmail.com
---
Important disclaimer: Remember that crowd funding sites are not stores. You may decide to back this project and provide funds, however there is no guarantee that any project will be delivered - the rate of failure is about 10%. PD is in no way accountable for the success or otherwise of any project and writes in this column purely for entertainment purposes, and will in no way be held liable for any failure or money lost by anyone. It is a case of "buyer beware". It is a sad reflection on the era we live in that PD must resort to this type of disclaimer.
Note: Photographs and illustrations are from the relevant websites and are the copyright of the respective owners.
© 2018 Prowling Dog
---